EDIT MAIN
Superintendent
Robert W. Brown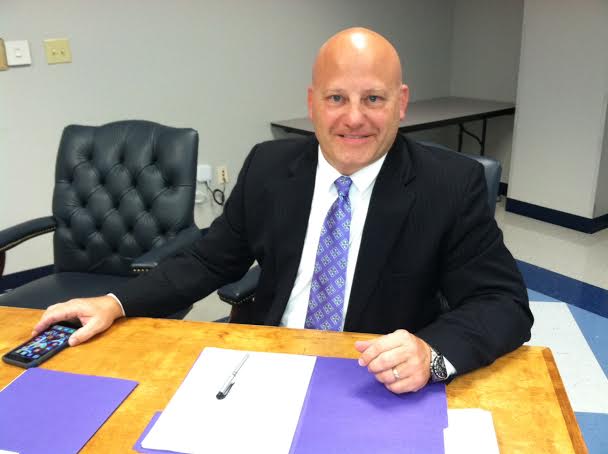 Robert (Rob) Brown was born in Marietta, Georgia and graduated from Sprayberry High School.
He attended Carson-Newman College where he received a Bachelor of Science in Physical Education & Health and a Bachelor of Arts in Psychology. While at Carson-Newman, he was a 4-year letterman on the wrestling team and was the Southeast Regional Champion. He later earned a Master's and a Specialist degree from Jacksonville State University before earning a Doctorate in Education from the University of Alabama.
Brown has served in public education for 23 years; jobs include teacher, coach, assistant principal, principal, central office administrator, and superintendent. He has presented at national conferences including the National Youth At-Risk Conference, the National Dropout Prevention Conference, and the National Alternative Education Conference. His schools have been identified as some of the best in Georgia with recognitions as a Governor's Cup winner, a Title I High Progress winner, a Title I High Performance winner, and a "Fab 4 District" among others. Most recently, Jeff Davis Middle School was identified for top honors as a Lighthouse School by the Blue Ribbon Schools of Excellence.
In addition to his professional role, Brown is an active community leader. While living and working in several Georgia cities, he has served as Rotary President, Kiwanis President, Hospital Board Chairman, volunteer youth coach, and serves as an active member of numerous community boards.
He and his wife Betsy, also an educator, have been married for 20 years. They have a 18-year old son named Keller.
Superintendent
Lumpkin County Schools
Dahlonega, Georgia
2016 – Present
Superintendent
Jeff Davis County Schools
Hazlehurst, Georgia
2012 – 2016
Principal
Hart County High School
Hart County School System, Hartwell, Georgia
2011-2012
Executive Director of High Schools
Douglas County School System, Douglasville, Georgia
2008-2011
Principal
Alexander High School
Douglas County School System, Douglasville, Georgia
2005-2008
Assist. Principal, Teacher, Coach
Alexander High School
Douglas County School System, Douglasville, Georgia
1997-2005
Teacher, Coach
Awtrey Middle School
Cobb County School System, Marietta, Georgia
1996-1997
Education
Superintendent's Professional Development Program
Completed, 2015
Georgia School Superintendent's Association
Lawrenceville, GA
Doctorate of Education (Ed.D.) in Educational Leadership
Graduated, 2011
University of Alabama
Tuscaloosa, AL
Educational Specialist (Ed.S.) in Educational Leadership
Graduated, 2004
Jacksonville State University
Jacksonville, AL
Master of Education (M.Ed.) in Educational Leadership
Graduated, 2001
Jacksonville State University
Jacksonville, AL
Bachelor of Science (B.S.) in Physical Education & Health
Graduated, 1996
Carson-Newman College
Jefferson City, TN
Bachelor of Arts (B.A.) in Psychology
Graduated, 1996
Carson-Newman College
Jefferson City, TN
Professional Activities
| | | |
| --- | --- | --- |
| 2015 | Presenter | National Youth At-Risk Conference |
| 2015 | Presenter | GAEL Winter Conference Fab 4 District |
| 2015-16 | Member | National Center for Education Research & Tech. |
| 2014-15 | Member | GSSA Conference Planning Committee |
| 2012-15 | Member | GADOE Facility Review Committee |
| 2011-12 | Member | Emmanuel College Teacher Improvement Board |
| 2011 | Presenter | National Dropout Prevention Conference |
| 2010 | Presenter | National Alternative Education Conference |
| 2009-11 | Board Member | GADOE Alternative Ed. Advisory Board |
| 2009-11 | Board Member | University of West Georgia School Counseling |
| 2009-11 | Board Member | Douglas County College & Career Institute |
| 2008-11 | Board Chairman | Douglas County Health Advisory Board |
| 2006-08 | President | GHSA Region 5-AAAA |
| 2006 | Participant | Georgia High School Redesign Focus Group |
Community Activities
| | | |
| --- | --- | --- |
| 2015-16 | Board Chairman | Jeff Davis Hospital |
| 2014-15 | President | Hazlehurst Rotary Club |
| 2013-15 | Board Vice-Chair | Jeff Davis County Board of Health |
| 2012-15 | Member | Hazlehurst Rotary Club |
| 2012-15 | Board Member | Jeff Davis / Hazlehurst Chamber of Commerce |
| 2012-15 | Board Member | Jeff Davis Family Connection |
| 2013-15 | Member | Hazlehurst First United Methodist Church |
| 2011-12 | Member | Hartwell Kiwanis Club |
| 2011-12 | Member | Hartwell First United Methodist Church |
| 2007-09 | President | Chapel Hills Kiwanis Club |
| 2005-11 | Member | Chapel Hills Kiwanis Club |
| 2005-15 | Volunteer Coach | USA Wrestling |
| 2005-11 | Volunteer Coach | Carrollton Parks & Recreation Department |
Recognitions/Highlights
| | | |
| --- | --- | --- |
| 2015 | Fab 4 District | Georgia Association of Educational Leaders |
| 2015 | Title I | High Progress High School |
| 2015 | Title I | High Progress Middle School |
| 2015 | U.S. News & World Report | Bronze Level High School |
| 2014 | Highest Middle School CCRPI | First District RESA |
| 2014 | Title I | High Progress High School |
| 2014 | Google Symposium | Google Symposium Host School District |
| 2006 | Governor's Cup Winner | SAT Improvement |